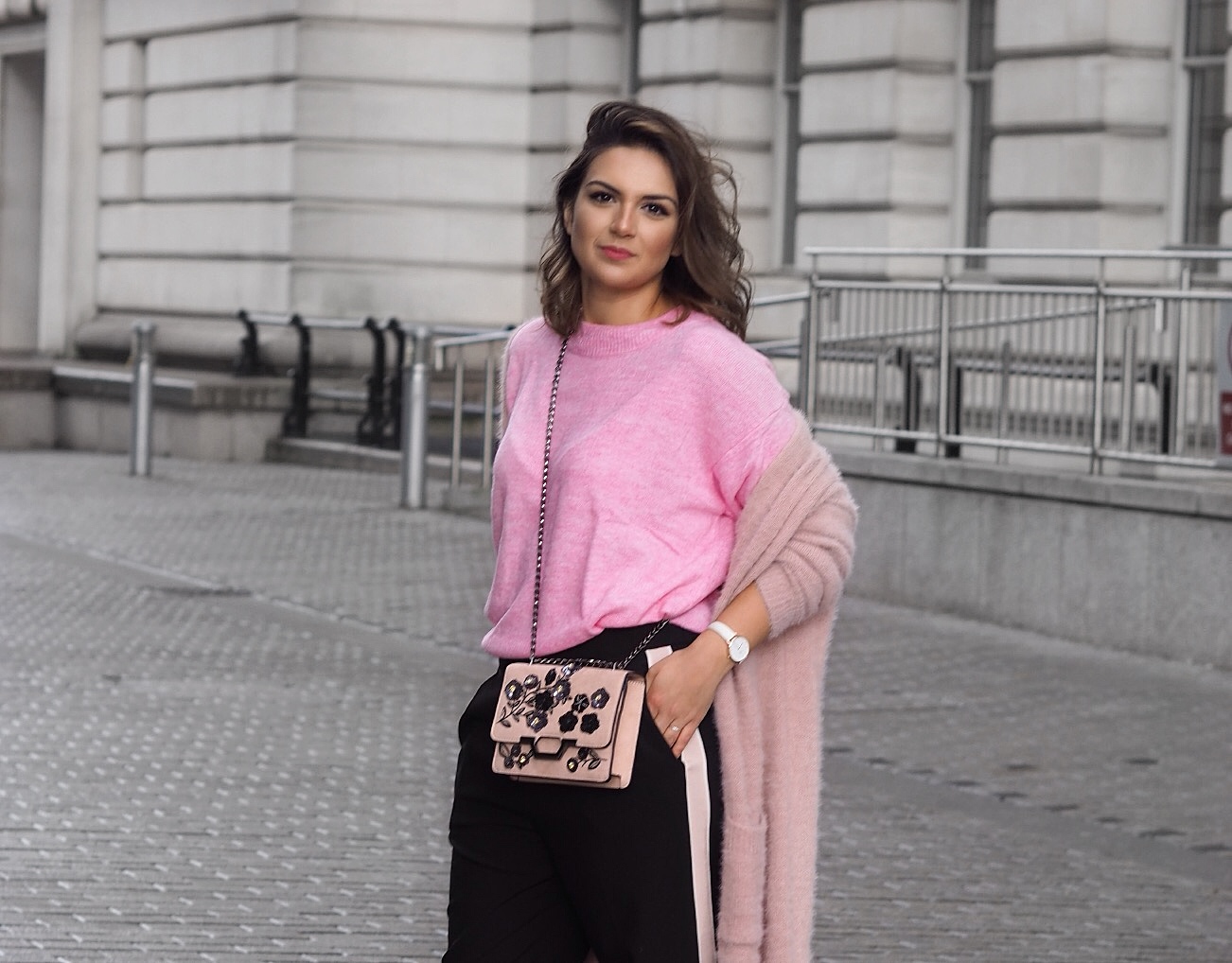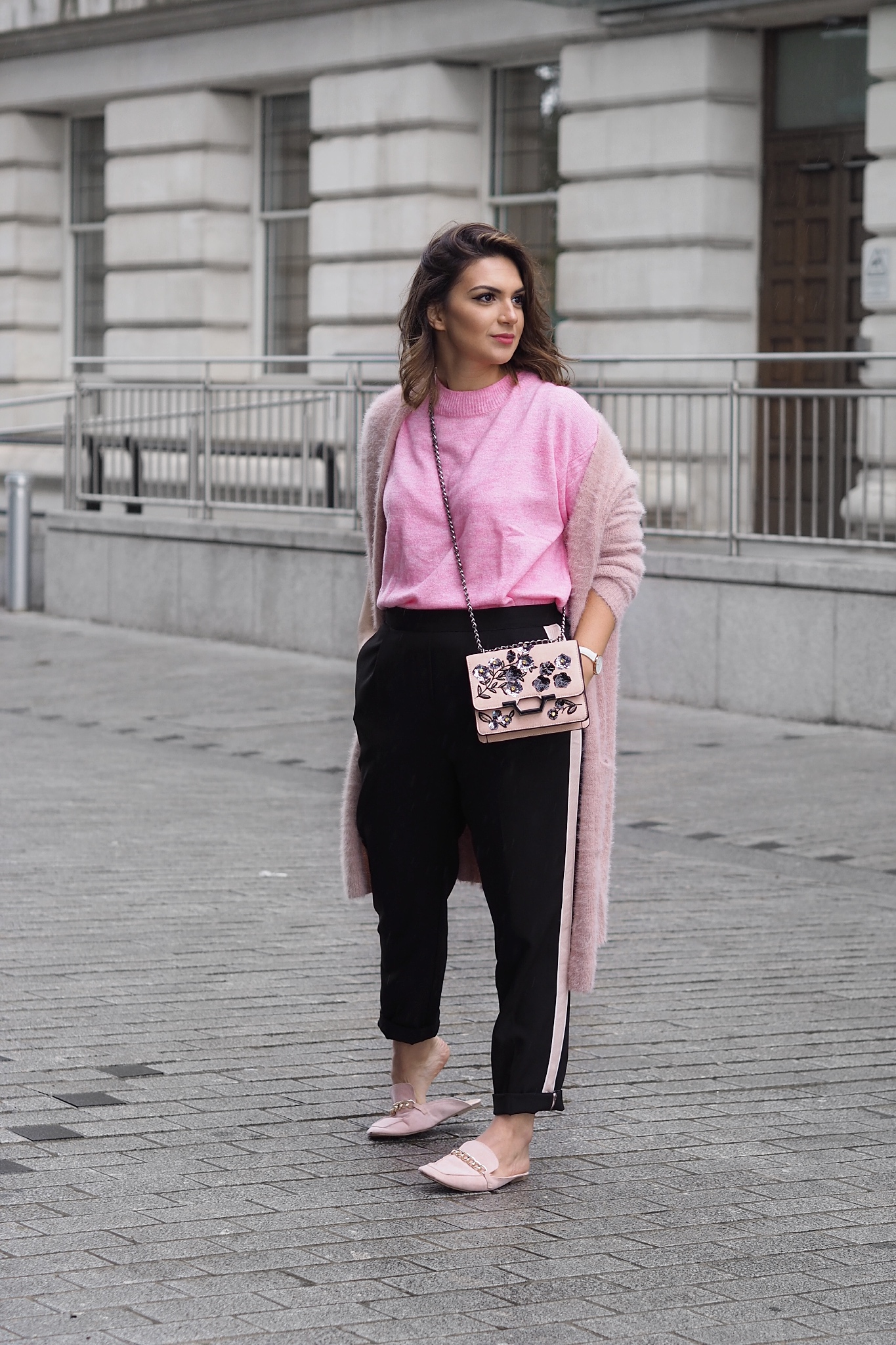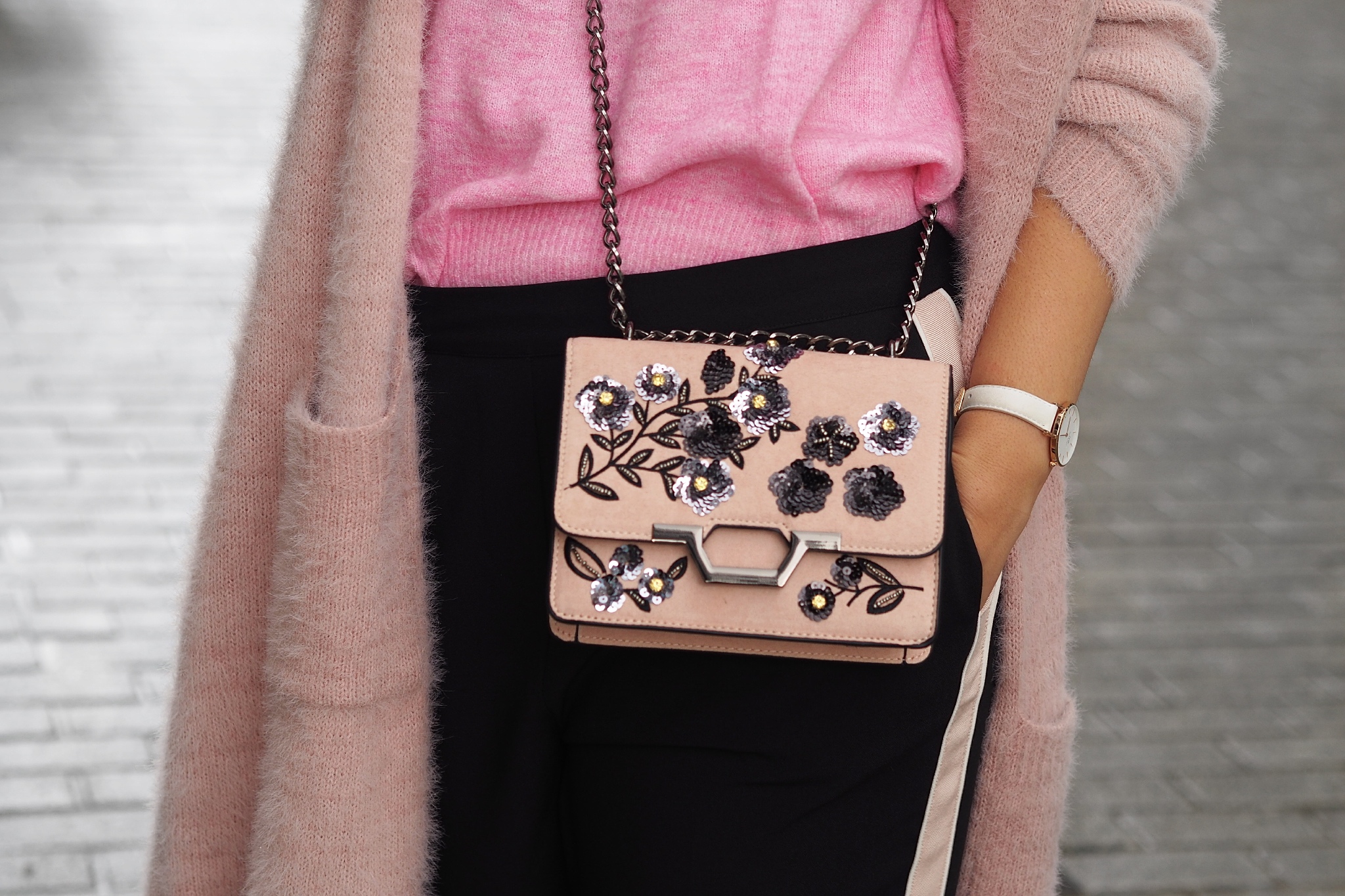 The sports luxe trousers have been in and out of the spotlight over the past seasons and so far they never really found a way into my wardrobe. Until now. I spotted these on sale in Oasis and couldn't resist a try-on. I guess it was the soft pink stripe, or maybe the fact that I managed to go two sizes down with these that got me, but before I knew it I had already tapped my card. Is anyone else finding this contactless method of payment leading to twice as many purchases? Not to mention I have forgotten my PIN number long time ago.
I wish I could pretend I'm a cool girl but really I'm not. As much as I wanted to give these trousers an edgy look and style them with a leather jacket and your cool type baker boy hat, it just wasn't me. So I went for the usual. Blush pink with a side of flamingo. Double portion please! If you're following me on Instagram you must have noticed I have a little obsession with the aforementioned colour. If you're not following me, now's the time to be Insta friends, just say HEY!
Not meaning to take your attention away from the side stripe trousers but I also have a thing for fluffy oversized cardigans. Send one of each colour my way and I will call you my bestie. I'm that easy. If that comes with a fluffy dog too, we will be besties for life, I promise.
The side stripe trousers are all about comfort. With an elastic waist, they're laidback luxe at its best. I can guarantee they feel like joggers but style them the right way and you can totally go on a night out in them. I'm not really the night out type of person (feeling like nana at 24) so the thought of a cosy jumper and slippers makes me really excited. Secretly trying to channel my inner Aylin König here but I'm not even close.
Now let's talk about this Topshop bag. Wait, let's take a moment to appreciate it first. Discuss those details and the embellishment and now admit how much you need it. Seriously, at £27 it's a HELL YEAH from me! I'm sure the X Factor judges will agree. Let's do a show of hands. X Factor fans reveal yourselves! Back to the bag. Why do you need all your stuff when you can take your phone, keys, cards and a lipstick. Who feels the need to conceal themselves on a night out these days? Forget that and let's focus on the real important stuff. What I mean is, this bag fits everything you need to take and if it doesn't fit in the bag, then you don't really need it. At least that's how I judge it.
I really wanted to give you a thought-provoking post or at least some advice on how to style these sports luxe trousers but I'll try again later. Let's keep this bright and airy, just like that living room you pinned to your Interior Goals Pinterest board yesterday. I mean, isn't it suffocating to read a daaaaaamn long post and think "Ugh, what is she on about?" Go on then, I know you want to say it…
Until next time
Michelle x
Photography Shelley Morecroft
SHOP THE POST